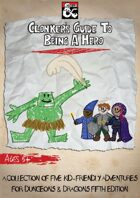 Teach Your Kids to Game Week!
Teach Your Kids to Game Week is on now! Get the next generation of gamers started on a new adventure today! We've gathered a list of family friendly adventures, maps, animal companions, and more for Teach Your Kids to Game Week! This sale only lasts the week, so don't miss out!
Spelljammer Adventures!
The Ad Astra: To the Stars (Episode I-VI) bundle collects the first six tales in an epic journey through Wildspace systems by seasoned international authors in the D&D Adventurers League community. Experience their unique takes, and unravel an interstellar mystery that spans a millennium.

The Book of Many Things VTT!

The Book of Many Things reveals the secrets of the Deck of Many Things, one of the most infamous magic items in Dungeons & Dragons. The book explores the deck's divine creator and the undead hunters who want to destroy the deck. Along the way, you'll discover knights who protect those who find the deck, werewolves seeking the deck to lift their curse, and a goblin who uses the deck to read your heroes' future.
The Book of Many Things is now available for your Roll20 virtual tabletop!

For questions about your DMsGuild account or problems with your order please use the Contact Us form.