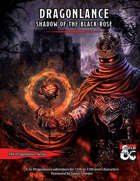 Holiday D&D shopping time!
The holidays are almost here. If you are shopping for a Dungeons & Dragons fan or want some books for yourself, it is time to get those print on demand orders placed! Print on Demand DMsGuild books take time to print and ship, so you want to make sure they arrive in time for gifting! Order by November 24th!

Recent print books include the Curse of Strahd Companion, Dragonlance: Shadow of the Black Rose, Crowns & Castles, and more!

Chains of Asmodeus is available now!

Chains of Asmodeus is a 286-page source book and adventure for the Nine Hells written by James Ohlen and Adrian Tchaikovsky. All proceeds from Chains of Asmodeus go directly to Extra Life, a fundraising program of the Children's Miracle Network Hospitals. Chains of Asmodeus is available now in PDF, with Hardcover on the way soon!
The Book of Many Things VTT!

The Book of Many Things reveals the secrets of the Deck of Many Things, one of the most infamous magic items in Dungeons & Dragons. The book explores the deck's divine creator and the undead hunters who want to destroy the deck. Along the way, you'll discover knights who protect those who find the deck, werewolves seeking the deck to lift their curse, and a goblin who uses the deck to read your heroes' future.
Pre-Order The Book of Many Things today for your Roll20 virtual tabletop!

For questions about your DMsGuild account or problems with your order please use the Contact Us form.