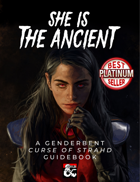 Last Chance for Spooky Savings in the
Halloween Sale!
Halloween is here! Time to tell some spooky stories!
The Halloween Sale ends today (10/31), so don't miss out!
Chains of Asmodeus is available now!

Chains of Asmodeus is a 286-page source book and adventure for the Nine Hells written by James Ohlen and Adrian Tchaikovsky. All proceeds from Chains of Asmodeus go directly to Extra Life, a fundraising program of the Children's Miracle Network Hospitals. Chains of Asmodeus is available now in PDF, with Hardcover on the way soon!
Planescape in Print!
Expand your Planescape: Adventures in the Multiverse options with Planescape: Metropolis and The Planescape Archive! Both of these expansive supplements are now available in Hardcover!

For questions about your DMsGuild account or problems with your order please use the Contact Us form.