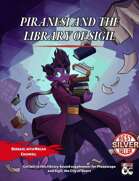 Planescape Community Content!
Planescape: Adventures in the Multiverse is available now! That means you can create and publish your own Planescape PDFs at DMsGuild! We want to see your Adventures, Monsters, NPCs, Spells, and more! What tales are you going to tell in Sigil and beyond?
Check out a few brand new Planescape Community Content PDFs and more today!

Why Play Planescape?
Head over to the Roll20 Blog to find out why Planescape is Your Gateway to Infinite Dungeons & Dragons Adventures!

Ravenloft Adventure Sale!
Save up to 40% on more than 150 Ravenloft Adventures this month! This sale includes classic D&D, Adventurers League, and Communty Content PDFs! Don't miss out!
For questions about your DMsGuild account or problems with your order please use the Contact Us form.