Dungeons & Dragons Back to School Deals!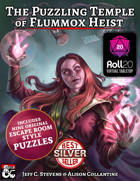 Save up to 40% on almost 200 Dungeons & Dragons Roll20 compatible titles from Wizards of the Coast and Dungeon Masters Guild community content creators in the D&D Back to School Sale! The sale includes Baldur's Gate: Descent into Avernus, Curse of Strahd, Fizban's Treasury of Dragons, Call from the Deep, Exploring Eberron, Drizzt's Travelogue of Everything, and more for your virtual tabletop!
Spelljammer Adventure Bundle!
You can save 50% on five Spelljammer Adventures with the the Dungeoncraft Collection X bundle deal! These adventures include new Maps, NPCs, Monsters, and more!

Planescape Community Content Wanted!
Are you working on Planescape Adventures in the Multiverse compatible supplements for DMsGuild? We want to hear all about your upcoming Adventures, Spell Books, and other upcoming books. Drop an email to dmg@roll20.net to give us all the details.

For questions about your DMsGuild account or problems with your order please use the Contact Us form.