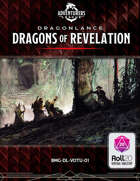 Baldman Games Adventurers League bundles!
Ready for more adventure? Get these bundle deals featuring Dungeons & Dragons PDFs and Roll20 virtual tabletop!
Dragons of Revelation - A Dragonlance: Vault of the Undying Adventure - A harried flight into a primal wood leads to the discovery of an ancient sanctuary of secrets. A Four-Hour Adventure for 2nd to 4th level characters.

Something in the Way - A Dreams of the Red Wizards: Obscure Devotion Adventure - Szass Tam is dead, but the appearance of a new star among the Tears of Selûne might be tied to his demise. A Four-Hour Adventure for 5th- through 10th-Level Characters.

Planescape Adventures in the Multiverse Pre-Order!
Planar pandemonium is just a roll of the dice away in this weird and wonderful adventure. Head over to the Roll20 Marketplace to Pre-Order Planescape Adventures in the Multiverse for your virtual tabletop!
Planescape Community Content Wanted!
Are you working on Planescape Adventures in the Multiverse compatible supplements for DMsGuild? We want to hear all about your upcoming Adventures, Spell Books, and other upcoming books. Drop an email to dmg@roll20.net to give us all the details.

For questions about your DMsGuild account or problems with your order please use the Contact Us form.