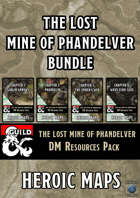 Level Up Your Adventures!
Even more official Dungeons & Dragons content for your Roll20 virtual tabletop is now available at Dungeon Masters Guild! Just launched are Lost Mine of Phandelver, the Stranger Things D&D Starter Set, Acquisitions Incorporated, and D&D Adventurers League Season 9 - 12 The Breath of Life! Get them for your virtual tabletop today!

Phandelver Maps from Heroic Maps!
Are you heading to the Lost Mine of Phandelver, either for the first time or a replay? Heroic Maps and Devin Night have teamed up to bring you the Lost Mine of Phandelver Chapter 1-4 DM Resources Pack! This bundle includes every location mapped in detail, 30 tables of inspiration and 50+ tokens!
Monster Manual Expanded Hardcover Bundle!
The Monster Manual Expanded series aims to provide Dungeon Masters more options and flexibility in designing adventures and dressing up their dungeons with a wider variety of creatures and characters. Now all three volumes are available in Hardcover!

For questions about your DMsGuild account or problems with your order please use the Contact Us form.