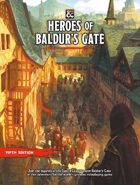 Adventures in Baldur's Gate at DMsGuild and Roll20!
Did you get a chance to check out 8 Intriguing D&D Lore Drops in Baldur's Gate over on the blog? We've gathered together some bundle deals and staff favorite Baldur's Gate PDFs here at DMsGuild! Grab the massive Baldur's Gate Lore Bundle, the Heroes of Baldur's Gate adventure, and more!

More Giants, More Spells, More Bigby!
Bigby Presents: Glory of the Giants is out now! Are you looking for even more Bigby? More Adventures including Giants? More Spells? Download Bigby's Handbookof Creative Spell Use, The Small Book of Giants, Giantslayer, and more in our More Bigby collection!

D&D Bundle Deals!
Save big with the CZRPG Fantastic Adventures bundle and enhance your game with the Eberron Oracle of War (DDAL) Battle Maps deal!

For questions about your DMsGuild account or problems with your order please use the Contact Us form.